Stone County Fire Services is comprised of a proud team of dedicated professionals and volunteers. Our mission is to deliver emergency services to the County of Stone and protect its well-being through preparedness, prevention, and education.
Todd Cospelich
Fire Coordinator
Phone: (662) 983-8580
Fire Coordinator Duties & Responsibilities:
In accordance with the Fire Coordinator Council (July 31, 2007), the County Fire Coordinator has the following job description:
This is a combination administrative and operational position under the direction of the county Board of Supervisors. The position involves duties as the County Fire Services Development Coordinator as required by Mississippi Code.
Item 1 – Assume overall responsibility ensuring county-wide compliance with recordkeeping and reporting requirements as established by the Commissioner of Insurance per MS Code 45-11-7 (paragraphs 9&10).
Item 2a – In conjunction with Board of Supervisors, Board Attorney, Comptroller and/or County Administrator prepare and administer a budget for state rebate and county monies allocated for fire protection activities under sections 19-5-95, 83-1-37 and 83-1-39 of the MS Code.
Item 2b – Recommend tentative budget figures to ensure compliance with guidelines established under 45-11-7; recommends budget for capital improvements, including new stations and major equipment purchases.
Item 3 – Represent the county in a statewide network of coordinators including participation in all meetings and training programs as prescribed by MS Code 45-11-7.
Item 4 – The fire coordinator shall work with the fire services in the county and municipalities therein; in planning and implementing programs intended to enhance local fire services.
Item 5a – In conjunction with Board of Supervisors and Emergency Manager (Civil Defense), issue fire danger statements in order to alert the public of hazardous conditions.
Item 5b – Serve as an advisor to the BOS and local fire service in the area of fire codes, fire suppression, and fire prevention activities where applicable.
Item 6 – To assist with the development of legal fire districts, fire grading districts and other activities as needed aimed at lowering fire insurance premiums and to educate the public concerning opportunities for development of local fire agencies.
Item 7 – To coordinate with water associations and other local organizations, agencies and institutions to provide additional support for fire service activities.
Item 8 – Act as liaison between the local fire service organizations, BOS, and other agencies including but not limited to State and Federal agencies in request to fire services.
Item 9 – Coordinate/support county-wide fire training activities.
Item 10 – Provide technical and logistical support as requested by the designated Sheriff's department investigator, in fire cause and origin investigations.
Item 11 – Participate in emergency management activities as stated in the county's Comprehensive Emergency Management Plan.
Item 12 – Develop and maintain a five-year plan for meeting the fire service needs for the county.
Item 13 – Review current standards set by government agencies and fire insurance organizations to determine the need for new and enhanced training programs for fire fighters; review training programs to ensure compliance with standards.
Item 14 - Work in conjunction with the county fire investigator, emergency management director and other officials to ensure the appropriate response and reporting of suspected arson, bombings and bomb threats and other unusual emergencies to the appropriate local, state and federal agencies as required by law and regulations.
Item 15 – Provide technical and administrative support to local fire service organizations as needed to alleviate problems with complaints and violations of applicable regulations.
Item 16 – Possess and a valid MS Driver's license.
Required Knowledge, Skills and Abilities
Knowledge of fire suppression and prevention methods and practices
Knowledge of the characteristics of various classes and types of fires
Knowledge of fire fighting and safety equipment
Knowledge of budgeting processes
Knowledge of fundamentals and business software including, but not limited to, spreadsheet and word processing software
Skill in the operation of a microcomputer utilizing spreadsheet and word processing software
Skill in the operation of an emergency vehicle
Ability to develop long-range plans for meeting fire service needs
Ability to develop policies and procedures for fire service operations
Ability to read and interpret laws and regulations relating to the fire service
Ability to read and interpret insurance rating organization regulations and minimum standards as they apply to the fire service
Ability to supervise subordinates
Ability to communicate effectively, both orally and in writing
Be proficient in the use and operation of computers and necessary software to ensure compliance with the MFIRS and possess the appropriate level of knowledge to act as systems administrator.
Responsible for the system administration of the statewide Fire Incident Reporting System.
Stone County Fire Service Training Officer
Shane Breland
Shane has been a firefighter for 17 years in Big Level Fire Department, in which he has served as Captain and is currently serving as Chief for the 8th year. Shane has also served as a full-time firefighter at the Biloxi Fire Department for 10 years and served as a part-time firefighter at the Wiggins Fire Department for 5 ½ years.  He has completed two years of college where he studied Fire Science and is currently obtaining an EMT certificate.
Shane's training qualifications include: 
Basic Firefighting 1001-2,
Driver Operator,
Instructor 1-2,
Fire Officer 1-2,
Rope Rescue 1,
Confined Space Tech.,
Haz-Mat Tech 1 & 2,
Fire Chem. 1,
Chemistry Of Haz-Mat for Emergency Responders National Academy Class,
Fire Department Safety Officer,
Train Derailment 1 & 2,
Trench Rescue Tech.,
Structural Collapse Tech.,
EMS First Responder,
Hazmat Awareness and Operations,  
Haz-Mat Detection Instruments,
Fire Ground Leadership,
NIMS 100, 200, 700, 800,
NIMS 700 Instructor, and
Over 2,000 hours of in house training. 
Current Projects:
Fire Coordinator is working with the following Fire Departments to lower insurance ratings in their communities:
McHenry/Sunflower, Perkinston, and Big Level.
Below is a link to the Ferrara Fire Apparatus Website. Click on the link to follow the progress of the Stone County fire trucks currently being built all the way through to delivery.
For upcoming events and fundraisers, please check out the Community Calendar.
Individual Fire Department Pages: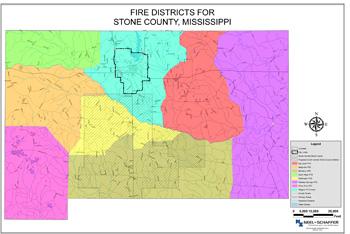 Stone County Fire Districts Map
Related Links:
Dial 911 for Emergencies!